Staff
Dr. Erik Ohman
Senior Pastor
Erik has been our senior pastor since 2010. A skilled leader and communicator, Erik oversees church staff, works with our elders to discern the Lord's direction for our church, and brings us weekly instruction from God's Word. Erik is a graduate of Louisiana State University, Fuller Theological Seminary, and Denver Seminary. He is married to Debie, and they have three grown children and two grandchildren. His favorite part of serving at WEPC is getting to work with the outstanding team of staff that God has assembled here.
Gumbo, Jambalaya, anything Creole or French
Any place in the wilderness
A couple pots and a toaster tied to a rope - made lots of noise dragging them down the sidewalk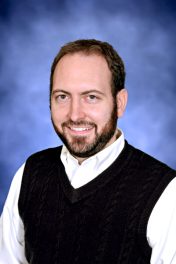 Andrew Morton
Assistant Pastor
As our assistant pastor, Andrew oversees youth ministry, small group ministry, coordinates special projects, and assists with preaching and other pastoral functions. He is a graduate of Calvin College and Reformed Theological Seminary. He has been a member of the WEPC staff since November 2013. Andrew and his wife, Mary, have two boys.
Any place that has to do with nature or history
The Lord of the Rings Trilogy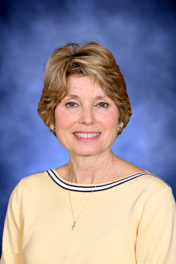 Krista Koors
Office Manager/Executive Assistant
Krista is responsible for overseeing the daily operations of the church office, and she works alongside our senior pastor to assist him in his duties. A lifelong member of WEPC, Krista originally joined the church staff as a receptionist in January 1998 before moving into her current role in 2004. She holds a certificate in office management from Indiana University. Krista has two grown sons, two grandsons, and a loving dog and cat.
Peanut butter and honey sandwiches - ice cream for dessert!
Drama: Shawshank Redemption; Entertaining: Now You See Me; ChicFlick: Tootsie
Dollhouse and Barbie dolls
Sandi Lancaster
Director of Presby Preschool
Sandi oversees all administrative functions of Presby Preschool and the day camps that Presby operates during the summer months. She holds a degree in early childhood education from Indiana University – Purdue University Fort Wayne and joined the WEPC team in August 1986. Sandi and her husband, Mark, have six children and sixteen grandchildren. Sandi's favorite part of her job is getting to see children learn new things and watching their faith in God grow as they experience His teachings and promises.
I love spending time with my family on any coastline!
I would rather read a good book than watch a movie.
I loved to ride a bike as a child, and I still do!
Marlise Shaffer
Director of Christian Growth
Marlise oversees the Sunday school program, church nursery, children's ministries up to 6th grade, and women's ministries. These duties include coordinating volunteers, selecting teaching curricula, planning events, training and supporting teachers, and doing whatever is needed to keep WEPC's Christian growth ministries operating effectively. Marlise holds a degree in music education from Grace College. She joined the WEPC staff in June 2014 as a part-time children's worship director before moving into her current role in October 2015. Her favorite things about being at WEPC are getting to work with a fantastic staff team and teaching kids about Jesus.
Mountains, Ocean, or any place that is new to me--I love to travel!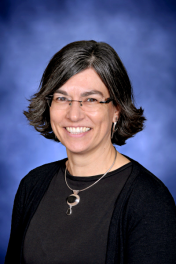 Dr. Judie Meulink
Director of Music
As the director of worship at WEPC, Judie's responsibilities include leading worship, designing weekly and special worship services, and directing the WEPC choir, praise band, and orchestra. In addition to degrees from Calvin College and the Hartt School of Music, Judie also has a doctorate in Music Education from Ball State University. She and her husband, Steve, have four children and one grandchild. Judie joined the WEPC staff in August 2009. She loves working with the other staff members and leading our congregation into the presence of God every week.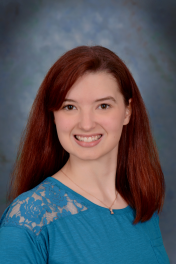 Marsha Peppel
Receptionist/Secretary/Graphic Designer
Marsha is responsible for a variety of upfront and behind the scenes tasks that help make WEPC a more welcoming place. Her duties include coordinating our team of receptionists, assisting visitors to the church office, and preparing a wide array of printed materials. Marsha joined the WEPC staff in January 2001. She attended the University of Mt. Union, the Cleveland Institute of Art, and Youngstown University. Marsha and her husband, Larry, have three grown sons and seven grandchildren.
Linda Rapp
Treasurer
As our church treasurer, Linda oversees a vital array of financial and administrative tasks that make the ministry of WEPC possible. Linda is a graduate of the South Bend College of Commerce and has been a member of the WEPC staff since October 1977. She enjoys the opportunity she has at WEPC to interact with her church family, children at Presby Preschool, and the Warsaw community. She and her husband, Jim, have two children, four grandchildren, and five great-grandchildren.
Costa Rica / Venice, Florida
Something To Talk About / Pretty Woman
A stuffed Kewpie sailor doll
DeWayne Busz
Facilities Manager
DeWayne is responsible for keeping our facility clean, welcoming, and functioning reliably. He is passionate about making our church building a friendly environment where people like to be. He has been a member of the WEPC staff since February 2012. DeWayne and his wife, Becky, have ten grown children, thirty grandchildren, and two great-grandchildren.
My stone tablet…maybe a marble roller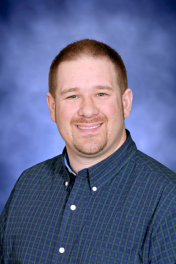 Ben Essick
Tech Director
Ben oversees all of our technology-related activities, from operating light and sound equipment on Sunday mornings to maintaining the church and preschool computer systems. He also assists with worship planning and leading. He holds a degree in Music Technology from Indiana University – Purdue University Fort Wayne as well as a Master of Music and Worship Degree from Liberty University and joined the WEPC staff in September 2012. Ben and his wife, Stefanie, have a daughter, Cora. He loves serving in a role where he can use his love for music and technology to glorify God.
Homemade Pizza, Anything Stefanie makes me
Chicago, Milwaukee, Indianapolis and Family in Iowa
Teenage Mutant Ninja Turtles and Legos